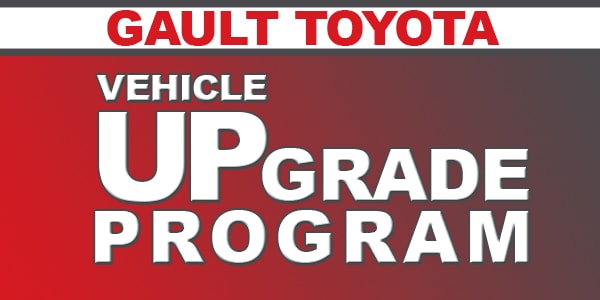 Don't miss the opportunity to upgrade into a new vehicle with Gault Toyota's Vehicle Upgrade Program!
Gault Toyota tracks and monitors your vehicle's equity position during the duration of your loan to identify the best opportunity for you to upgrade into a new vehicle.

Using Factory incentives, dealer discounts, and financing options, we have the ability to notify you when you are eligible to exchange your current vehicle for a newer vehicle keeping your payment at or below your current monthly payment.

Benefits of the Vehicle Upgrade Program:
Latest Vehicle Technology
Latest Fuel Economy Technology
Latest Safety Technology and Features Full Factory Warranty
2 Years of Recommended Maintenance Included with New Toyota Purchase
Lower Finance rates in many cases
Potential Lower Monthly Payment


Ask your Service Advisor for your Equity Analysis Report at your next Gault Toyota Service appointment. This report is FREE and has no obligations. Fill out the inquiry form to the right to receive information on your vehicles eligibility for this program or contact Sales at (877) 217-4142 to find out how you can upgrade TODAY!


*Vehicle must have been purchased from Gault Toyota to be subjected to monitoring of equity position. Not every vehicle will qualify for the vehicle upgrade program and all calculations to assess the equity position are calculated on an estimated pay off of current vehicle loan.