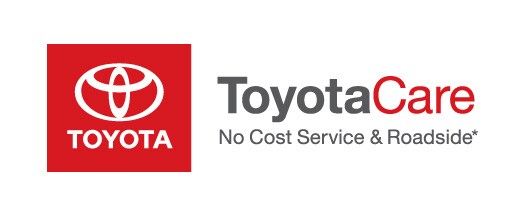 Peace of mind with every new Toyota. We at Toyota are devoted to safety and dependability, and proper vehicle maintenance is important to both. That's why we're including a no cost maintenance plan* with the purchase or lease of every new Toyota. For 2 years or 25,000 miles, whichever comes first, you and your new vehicle will be covered. It's peace of mind, and we're the only full-line brand to offer anything like it.

Maintenance
Factory-trained Toyota technicians will help you fulfill maintenance obligations and help improve your Toyota's overall value, while keeping a complete history of maintenance visits. Toyota will also deliver timely reminders before your scheduled maintenance.
ToyotaCare Scheduled Factory Maintenance Covers:
Oil and filter **
Lubrication check of key chassis parts
Tire rotation

19-Point Inspection



19 points are checked on your car to identify potential issues, reducing the possibility of a part failure. The preventative maintenance is designed to keep your car, and your bank account, in the best shape possible

Fluids inspected and replenished:

1.     Brake master cylinder
2.     Clutch master cylinder
3.     Transmission
4.     Differential
5.     Coolant
6.     Windshield washer
7.     Power steering
8.     Transfer case (if applicable)

Visual inspection of:
 9.     Air filter
10.    System hoses
11.    Drive belts
12.    Axle boots
13.    Shock absorbers/suspension
14.    PCV valve (if applicable)
15.    Cooling system
16.    Exhaust system/muffler
17.    Tire wear
18.    Tire pressure
19.    Windshield wipers
*   Covers normal factory scheduled service for 2 years or 25,000 miles, whichever comes first. See Toyota dealer for details and exclusions. Valid only in the continental U.S. and Alaska

**  Engine oil may include OW20 Synthetic Oil, depending on vehicle model and model year.


*** Maximum $100 per occurrence; does not include parts and fluids.